Tuesday, June 19, 2012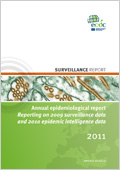 This edition of the Annual Epidemiological Report presents the surveillance data reported to ECDC for 2009 and an analysis of the public health threats detected in 2010 through ECDC's routine epidemic intelligence.
It provides an overview of communicable diseases in the European Union and describes areas where a more concerted public health response is required in order to decrease the burden of disease on society and healthcare systems.
http://www.ecdc.europa.eu/en/publications/Publications/1111_SUR_Annual_Epidemiological_Report_on_Communicable_Diseases_in_Europe.pdf
Tuesday, June 5, 2012
Under Dutch law, preventive youth healthcare organisations have a duty to ensure the early identification of children with health or developmental problems. Similarly, municipalities have a duty to monitor young people's health at least every four years. For problem identification and monitoring, both individual and collective, these organisations often use self-report questionnaires. The overall aim of this thesis is to study various methodological and validity issues related to the use of self-report questionnaires among young people in a preventive youth healthcare setting. Seven specific research questions are derived from the Rotterdam Youth Monitor (RYM), a longitudinal youth health surveillance system integrated into preventive youth healthcare in the greater Rotterdam area.
http://repub.eur.nl/res/pub/18629/100401_Looij-Jansen%2C%20Petra%20Monique%20van%20de.pdf
The objective of this thesis was to quantify three-dimensional ocular stability in response to head movements in healthy human subjects and in patients with various types of peripheral vestibular disorders. Despite a large increase in our knowledge from animal and human studies about the neuronal circuitry that regulates three-dimensional (3D) vestibular organization (for a recent review see Angelaki and Cullen 2008), its application to clinical practice is still a long way ahead. In order to bridge this gap, we explored in healthy subjects the naturally occurring variability in 3D vestibulo-ocular stabilization and compared these results with changes that occur in 3D vestibulo-ocular stabilization in patients with various types of unilateral vestibular disorders.
http://repub.eur.nl/res/pub/19244/100414_Goumans%2C%20Janine.pdf